Supertortuga is create whose ambition is to raise the level on the Net to a higher plane which previously only a limited few have had the possibility to assimilate.
On numerous leading websites, every more time voices are raised to claim the belief/perception that Supertortuga is synonymous with the hope of mankind for a sustainable future. What is your view? Read and contemplate.
Many are the reader that shortly after having read this introduction, ask: 'what kind of incredibly stupid nonsense is this?'. Supertortuga invites you to search for the answer, which is embedded among the pages that constitute this oasis on the Net.
Articles
Article published by
Supertortuga
on 2016-05-01
272
1
4.5 (2)
Most people have heard about the Big Bang Theory, either as a theory that explains the origin of the universe or as a TV series. I am more interested in the former, even though it leaves out some vital parts. I mean, the theory behind big bang,claims that all mass in universe was concentrated in an infinitely small sized point with an enormous mass, in an empty space, which then exploded and began to expand through this empty space. This is not too easy for one to grasp.
Universe is in an expanding phase, and it is believed to continue its expansion until a point where the mass begins to contract, until it finally is concentrated in an infinitely small sized point with an enormous mass (the mass should be same as the last time it was concentrated in this small point).
When I think about it, EPUT is one hell of a fine theory.

During my period in upper second schooler, a colleague (Sjöstrand) and I formulated a theory of our own, titled Eternal Phase Universal Theory (which was stringently abbreviated to EPUT). Our theory would explain everything (therefore 'universal') and claimed that everything is repeated in recuuring phases. Had it not been for the fact that our theory was mainly the result of common nonsense, and also due to the fact that the Big Bang Theory had already beeb invented, EPUT would surely have been an establish theory today.
Article published by
Supertortuga
on 2016-04-03
329
0
4.5 (2)
Modern society is based on consumption which financed by paid work. In case the consumption can not be financed by saved money, the banks gladly provide credits, which must be returned with interests. Many people search for a way out of this hamster wheel to get financially independent.
But what does actually financially independent mean? Some might think that you are financially independent when you moved away from home and are free to spend your salary as you wish. Others say that you should be free from debt and even have some saved money. Or perhaps that you work for yourself without depending on an employer. All of these definitions refer to different grades of independence, but in this article I will define financial independence by being in a position where work (neither paid work nor other work) is not required for your living, but this is instead financed by passive income from capital (such as dividends or interest income) or properties (such as income from rent).
Article published by
Supertortuga
on 2016-03-18
767
1
4.6 (5)
In this article I describe how you can install the latest version of Android (Marshmallow) on a mobile phone from 2011, and make it work better than ever.
Each year, all mobile phone makers launch a number of new models, which contain new functions designed to convince us to upgrade to the newest model, despite that our existing phone only is a couple of years old, and should give several years of additional service. At the same time, at least once a year, a major upgrade of the phone's operative system is released, however most phone manufacturers cease to adapt the operative system to older models a few years after launch. There is nothing strange about this, the resources are allocated to the newer models, that will generate the incomes. The result is that you are stuck with a phone, that works continuously worse depending on that the newer apps require more from the phone, and with an operativ system that lack the newer functions and perhaps has safety flaws that will not be addressed.
Article published by
Supertortuga
on 2016-03-06
579
0
4.3 (3)
This concept has nothing to do with warfare, with the possible exception of financial warfare. To lay a carpet where the bombs are dividends refers to having a stock portfolio with stocks that pay dividends distribibuted throoughout the year, preferably with several payments for each kind of stock. One advantage of this strategy is that the income is more evenly distributed over the year, which may be an advantage if the objective is to finance your living from the dividends.
If the desire is to reinvest the dividends, it can also be an advantage to have an even cash-flow, that permits buying stock on several occasions during a year, which tend to give a more representative acquisition cost (if you only buy at one single occasion, there is a risk that you buy too expensive).
Article published by
Supertortuga
on 2016-02-28
627
0
3.7 (3)
During my usual walks with my dog, I use to see this writing on a wall next to the orange fields. The quote is from Frank Lloyd Wright, an american architect. Freedom is from within.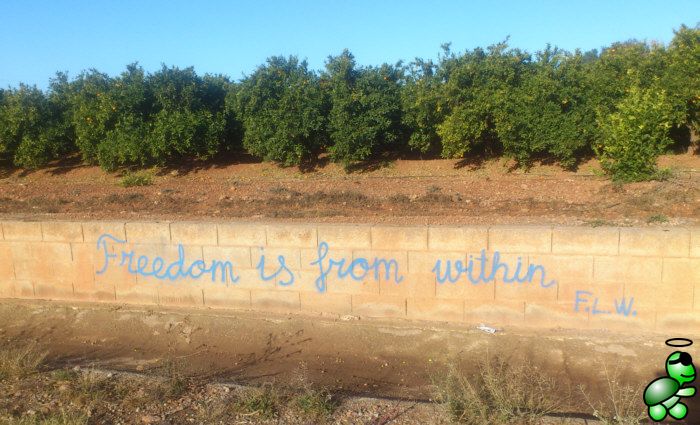 Freedom is from within.
Reviews (C64 games)
Park Patrol was released by Activision (famous for many classic C64 games) and programmed by Tony Ngo, the same guy who made one of my all time favourite C64 games - Bandits.
As the you may guess from the title, you are a park ranger, collecting bottles thrown away in the park while keeping away from the animals that inhabit the park. At game startup many settings can be made and thereby changing the difficulty of the game.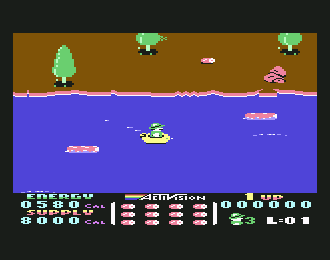 Out on the river
Kong Strikes Back was released in 1985 by Ocean. Both the name and the idea of the game is similar to Donkey Kong, but there is no information which indicates that this should be a conversion of a Nintendo game.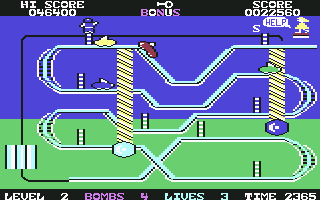 The second level almost finished
I first played this game on the Amiga, and remember that version as a good, but difficult game. Katakis was released by Rainbow Software in 1988. The C64 version was designed by the talented programmers Manfred Trenz and Andreas Escher, which were involved in many good games (among them Turrican) on the old C64.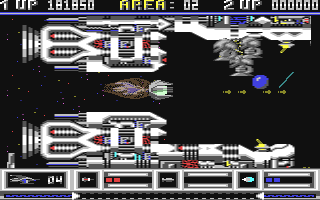 Hey, isn't this R-Type? Naah, but pretty close…
Ghosts'n Goblins is one of the most popular arcade games, so the C64 version had a lot to live up to when it was released. The C64 version was ported by Elite and was released in 1986.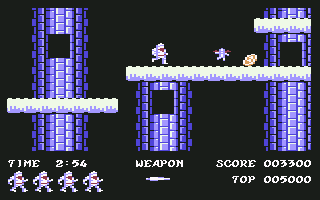 Our brave knight has made it to the castle
The C64 version was made by Firebird (which was known for great conversions such as Bubble Bobble) in late 1987. Being an old C64 user, I was quite excited when I rather recently got hold of the C64 version of Flying Shark. Although the C64 was a very good system for games (compared with the other consoles and computers) I must say I was first rather disappointed with what I saw.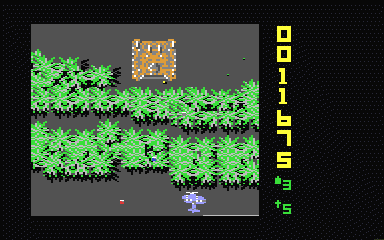 End of level 1 boss