Got me a new phone
Published by
Supertortuga
on 2016-10-31
1796
2
Since I first got my trusted Sony Ericsson Xperia Ray back in 2011, until just recently it was not on my map to replace it for any other phone. The Xperia Ray stopped being updated with Android Ice Cream Sandwich (4.1), which in some respects was a downgrade compared to the lighter Gingerbread. So I ended up I have experimenting with various flavours of the Android operative system, first some home-brewn builds based on Gingerbread (2.3) , and later several versions of the Legacy Xperia initivative based on Android Kitkat (5.0), Lollipop (5.1) and Marshmallow (6.0).
I really love the form factor of my Xperia Ray - I have not found any phone with decent specification with this size, perhaps with the exception of the iPhone (which for various reasons is not, and won't be, an option for me). The Legacy Xperia has offered me a stable and updated version of Android, working perfectly for everyday usage and giving a 48+ hour battery timing (with gprs data, gps and wifi enabled). Also, the updated software also improves the original specifications of the phone, for example using the external SD card to extend the storage memory for applications.
However, during a business trip abroad I discovered the shortcomings of my 5 year old phone. While it does run all apps I have ever tested (Facebook is not included in them though, and it won't be), the time required to start the apps and perform certain tasks was no longer acceptable. For example, I use my phone during my running exercises, with the excellent Endomondo that tracks the exercise and Spotify as s music player. Those who know me, would say that I am a man with patience - and my beloved Xperia Ray has really tried my patience, with unacceptable loading times, interrupts in the music playback and some occasional restarts of the phone.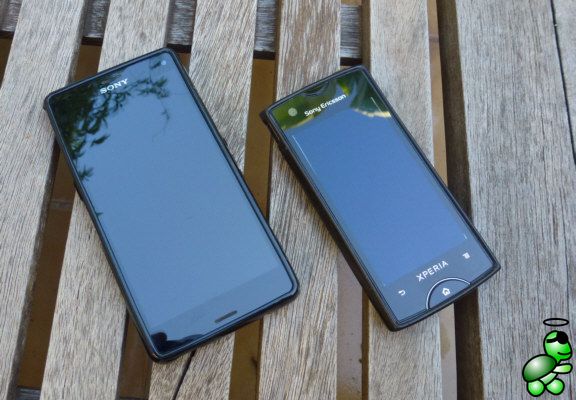 My brand new Sony Xperia Z3 Compact and my old trusty Sony Ericsson Xperia Ray
So, finally I decided that it was time for a new phone. Finding something to machine my Xperia Ray proved to be difficult, especially with regards to the size. After a lot of comparatives and reading different review, I opted to go for another Sony (Sony Ericsson RIP) device, this time the Sony Xperia Z3 Compact. I purchased mine on Ebay from China for 230€ including shipping, which is about half of what I paid for my first Xperia Ray. After having used it for a month, my impressions are overall positive. This is a rather small phone (in comparison to the popular phablets flooding the market) which I can carry in a belt holster (an excellent leather holster from Polish manufacturer Berlose) in the same manner as with my Xperia Ray, which has the processor power and memory required to make me think that this phone will last as long as the Xperia Ray. On the positive side it also is IP65/68 certified, which makes it (more) water resistant. And, the battery time is excellent - I have used it up to 4 days without recharging it (even if I am not a heavy user, this more than enough to keep me happy). One of the disappointments is the GPS function, which I have still not achived to work correctly (long time to fix position, and inaccurate position during first part of the exercise).
I have not yet rooted the device, and I think I will wait some time before I do it. After all, it is still under warranty and even with the Sony bloatware installed it performs very well. In case I do, I will post my my conclusions here.
A quick comparison
Check out the GSMArena complete comparison for more details..
Parameter
Sony Xperia Z3 Compact
Sony Ericsson Xperia Ray
Size
127 x 64,9 x 8,6mm
111 x 53 x 9mm
Screen size
4,6' / 720x1280 pixels / 319PPI
3,3' / 480x854 pixels / 297PPI
Screen to body ratio
~51%
~70,6%
Parameter
Sony Xperia Z3 Compact
Sony Ericsson Xperia Ray
Weight
129 g
100 g
Battery duration*
96 hours or more
48 hours or more
* Supertortuga normal usage. Ocasional calls. Wifi, gprs data and gps on.
And a final word to those who ask themselves what happened to my Xperia Ray? It is still fully functional and will serve as my backup phone, and I will continue upgrading to the latest version of Legacy Xperia (I hope Michael Bestas will keep up his great work a long time).