Articles about other issues
You don't have to be funny all the time. And you don't have to be serious all the time. Supertortuga changes between the fun and the serious, it is both high and low at the same time being broad and narrow. All mixed up. Just like life is.
Here you will find other articles that does not really, or at all, fit into the other categories. I hope some of them will make you laugh. And that some of them will make you think a bit.
Arne Dahl is the pen name used by Jan Arnald when writing his crime fiction novels. The writer was introduced to me by my father who gave me a book (I think it was "A Midsummer Night's Dream") and recommended me to read it. Since it was not the first book in the series, the different personalities of the Intercrime group (A-gruppen in Swedish) were already defined in the previous books, and I got to learn them better as I kept reading the earlier books.
The novels circle around the Intercrime group and their work to solve crimes with international connections. The persons forming the Intercrime in the group are the same throughout the series, but their personalities change and evolve as they get older and are affected by their experiences. Each book is set around a plot which relates to real world problems, such as cyber crime, prostitution, organized crime, etc. While the story is often crude, it is narrated with a humorist touch. I always look forward to reading the books in the Intercrime and Opcop series, and I am happy there are several ones still unread.
Books in the Intercrime (A-gruppen) series - original Swedish title (English title) year:
Misterioso (Misterioso) 1999 *
Ont blod (Bad Blood) 1998 *
Upp till toppen av berget (To the Top of the Mountain) 2000
Europa blues 2001 *
De största vatten (Many Waters) 2002 *
En midsommarnattsdröm (A Midsummer Night's Dream) 2003
Dödsmässa 2004
Mörkertal 2005 *
Efterskalv 2006 *
Himmelsöga 2007 *
During today's evening walk, my dog suddenly became alert. Then I saw it. It was just lying there, the poor hedgehog was obviously dead, without any visible signs of a violent death. Was it an accident? Was it fate? Was it part of the masterplan of some greater almighty god? I don't know, but I think that this beautiful animal had become victim of eating the poison used in the orange plantation to keep the poblation of rats and rabbits down. Sad, but in the wilderness, animals seldom live long enough to die by age, unlike in our modern society.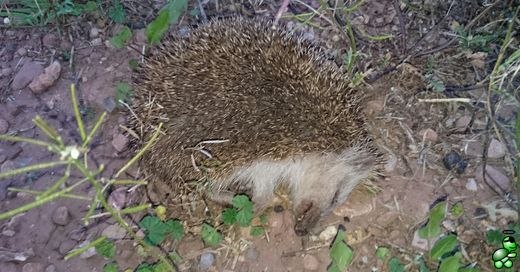 Dead hedgehog. Found on an open field near the orange plantations
Anne Holt. Anne Holt has a solid background in the legal environment - she has a law degree, has worked in the Oslo Police Department, as a journalist and during a shorter period she even served as Minister of Justice of Norway. This probably explains why she masters this gendre, being one one the most popular crime novelists in Norway, with her works being published in more than 25 countries.
The first book by Holt I read was "1222", which was a refreshing experience, introducing me to the world of the heroines Hanne Wilhelmsen and Inger johanne Vik.
Books in the Hanne Wilhelmsen series - original Norwegian title, year (English title):
Blind gudinne (Blind Goddess) 1993 *
Salige er de som tørster (Blessed Are Those Who Thirst) 1994
Demonens død (Death of the Demon) 1995 *
Løvens gap (co-authored with Berit Reiss-Andersen) (The Lion's Mouth) 1997
Død joker (Dead Joker) 1999
Uten ekko (co-authored with Berit Reiss-Andersen) (No Echo) 2000
Sannheten bortenfor (The Truth Beyond) 2003 *
1222 (1222) 2007 *
Offline (Odd Numbers) 2015
I støv og aske 2016
Håkan Nesser is a Swedish novelist, who, apart from several standalone novels, is famous for his series of novels about the police inspectors Van Veeteren and Barbarotti (in two separate series of novels). In my favourite series about Van Veeteren, a lot of the story circles around the police inspector himself and his personal life, as well as around the seconday characters, which in some of the novels take on a lead role.
However, the first Nesser novel I read was "A summer with Kim Novak", which was a pleasant surprise for me, still being one of my favourite novels and probably my favourite Nesser novel. It is always a joy to read Nesser - he truly masters the Swedish language in a very subtle way.
Books in the Van Veeteren series - original Swedish title (English title), year:
Det grovmaskiga nätet (The Mind's Eye) 1993 *
Borkmanns punkt (Borkmann's Point) 1994 *
Återkomsten (The Return) 1995 *
Kvinna med födelsemärke (Woman with Birthmark) 1996 *
Kommissarien och tystnaden (The Inspector and Silence) 1997 *
Münsters fall (The Unlucky Lottery) 1998 *Carambole (Hour of the Wolf) 1999 *
Ewa Morenos fall (The Weeping Girl) 2000 *
Svalan, katten, rosen, döden (The Strangler's Honeymoon) 2001 *
Fallet G (The G File) 2003 *
I registered supertortuga.com on the 9th of February back in 2001, which means that the site now celebrates 16 years on the Internet!
This signifies, among other things, that Supertortuga has been present on Internet longer than Facebook. The well-known social network created by Mark Zuckberg was launched on Febraury 4th, 2004. And another famous network, namely Twitter, was launched in 2006. These are cold facts, which are tough to handle for these big companies.
And, what is more important, Supertortuga will still be here after fads like Facebook and Twitter are gone and long forgotten.
Supertortuga was the sequel to the mighty Babar Overdrive, which was launched sometime back in 1999. Back then, the site focused on C64 games, which was a great interest of mine (and still is actually - these games were fine pieces of work, very original and still very enjoyable). During the first couple of years I worked really hard with the site, adding new sections such a Spanish-learning system with a verb conjugation function ahead of its time, and it also featured an extensive personal section. However, the site grew out of my hands, and it took too much of my time to prepare all the contents in Swedish, Spanish and English.
Time changes, and so do people, and I decided to downsize the contents, publish only in English and focus on the writing and the topics I am interested in today. But I keep using a format which is not depending on the big networks (the framework of Supertortuga is 100% written by the turtle himself).
I guess I cannot really promise to be around when Facebook is gone... But I hope you will have to stick with me for another 16 years!
Jo Nesbø. The works of this Norwegian novelist have been translated into over 40 languages, proving to be very popular also outside Norway. I have read mainly the series of novels with Harry Hole as the main character - a hard skinned alcoholic police detective working at the National Criminal Investigation Service (Kripos). Jo Nesbø does a lot of research for his novels, and the stories are very entertaining, giving the reader a lot of background information and letting them know also the side characters. Jo Nesbø is one of my absolute favourite novelists in this gender and I hope he will keep writing for a long time.
Books in the Harry hole series - original Norwegian title (English title), year :
Flaggermusmannen (The Bat) 1997 *
Kakerlakkene (Cockroaches) 1998 *
Rødstrupe (The Redbreast) 2000 *
Sorgenfri (Nemesis) 2002 *
Marekors (The Devil's Star) 2003 *
Frelseren (The Redeemer) 2005 *
Snømannen (The Snowman) 2007 *
Panserhjerte (The Leopard) 2009
Gjenferd (Phantom) 2011
Politi (Police) 2013
They say that the crime fiction novels from Scandinavia belong to the gender Scandinavian noir, but being Swedish I do not find these books to illustrate a dark society, rather i find the story telling technique in many of the novels to be refreshingly accurate, simply describing things as they are. Opposite to the story telling tecnique used in many American movies, the characters in the novels can seldom be easily sorted into black or white categories, but instead they paint a more balanced picture, with complex personalities and motives, and often with a background criticism of society.
I enjoy reading these books, and after each visit to Sweden, I come back with 10-15 new books, which I read at a pace of 1-2 per month (which is the maximum permitted with my current life situation. I will post separate articles describing some of my favourite novelists following the list below (in no special order).
Åsa Larsson
Karin Fossum
Leif G W Persson
Stieg Larsson
Jens Lapidus
Roslund & Hellström
Henning Mankell
Camilla Läckberg
A horse, a horse! My kingdom for a horse!, King Richard III yells out in a famous Shakespeare's play. Here on the Mediterrean coast of Spain it is either raining or snowing, and every dog owner knows that when it rains, after the daily walks your dog returns... humid, wet or soaking wet... So, we don't need a horse, but something would be very appreciated.
If you, like Supertortuga, have a big dog, you need to spend a lot of time drying the dog after each walk. And if you live in a flat or a house without a garden, there is no option; the dog must be well dry before entering your house. Although it does not rain very often here on the Azahar (orange flower) coast, but when it does rain, it literally falls down and it can last for days.
So, fed up of spending so much time drying our golden retriever, Mrs Supertortuga prepared a custom made raincoat. It covers most of the dog, and it does not impede its movements nor disturb her when she has to relieve her needs. And the best of all, our dog returns with all the fur of the torso dry, which means that we only need to dry its head, feet and tail.
The winter, albeit without snow but with cold winds, has arrived to the Spanish Mediterranean coast. The temperature during nighttime dropped to -1º last night and the daytime temperature is also colder than normal for the season. The small birds and Spaniards in general hide behind thick winter jackets and scarfs.
This climatic situation means tough businees for some of my plant on the upper terrace, where they are exposed to the cold air. So far, all my plants have put up well, and there and no signs of frost bites, even on the sensitive Ficus Robusta, which are know to be among the first native plants to be affected by low temperatures, mainly because of the high water content in the leaves.
In the great old days, back in the glorious 1980's, I was hooked on to the Commodore 64, an 8-bit home computer introduced in 1982 by Commodore. The C64 is listed in the Guinness World Records as the highest-selling single computer model of all time with an impressive 15 million units sold (so I was in good company).
Compared to today's powerful computers, the C64 had limited resources, but its great advantage was that there was only one model, with common hardware, which made it possible to create a huge amount of software, which further increased its popularity. The C64 had 64 Kb of RAM (hence its name), a 16 colour graphics chip (VIC-II) with sprites and scrolling capacibilites, and the amazing SID sound chip.
I was amazed by the games, and I have spent a huge amount of hours playing classics such as Blue Max, Gyruss, Bandits, Dino Eggs, Fort Apocalypse, Popeye, Wizball, and a countless list of other memorable titles. I do get amazed by today's games, which are truly impressive from a technical point of view, but I believe that many of the games created back in the 80's are masterpieces, often created by one single person, doing all the coding and creative work himself.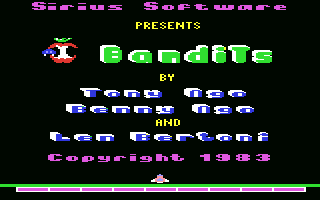 The title screen of Bandits