Review of Armytek Barracuda XM-L2 U2 LED 1390lm flashlight
Published by
Supertortuga
on 2016-12-27
2013
0
It is autumn, and here in Europe we are heading towards the darker part of the year (and additionally helped by the recent change to winter time). This is ofcourse good news for everyone that just like I are flashlight geeks.
As you might have read in my review of the Armytek Wizard headlight (which was my first Armytek flashlight), I found the headlight form factor to be extremely versatile and it is still one my my favourite flashlights. But, who can resist a powerful flashlight such as the Armytek Barracuda?
Disclaimer: Supertortuga is in no way connected to or endorsed by Armytek nor any other manufacturer or supplier. The opinions expressed here only reflect the personal opinion of Supertortuga.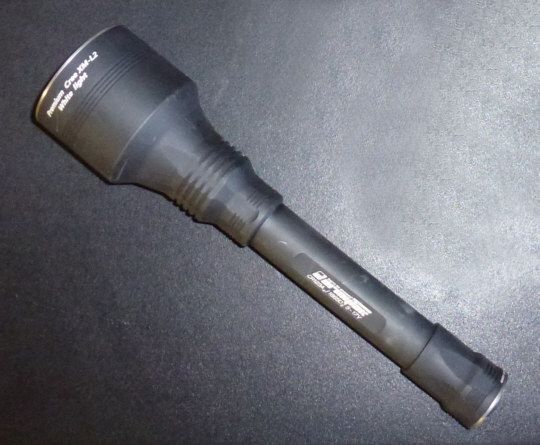 Ladies, gentlemen and fellow turtles! I present to you the Armytek Barracuda searchlight
Introduction
My collection of flashlights from Armytek comprises the headlight Armytek Wizard, the everyday usage flashlights Armytek Viking Pro and Armytek Predator and finally the searchlight Armytek Barracuda. This short review is dedicated to the latter, and I will compare to with the others and give my opinions on how this flashlight works in practical usage. I bought my Armytek Barracuda XM-L2 U2 LED 1390lm flashlight on Ebay for some 90€ (including shipping) in January, 2015, which means that I have had the opportunity to evaluate it during almost two years.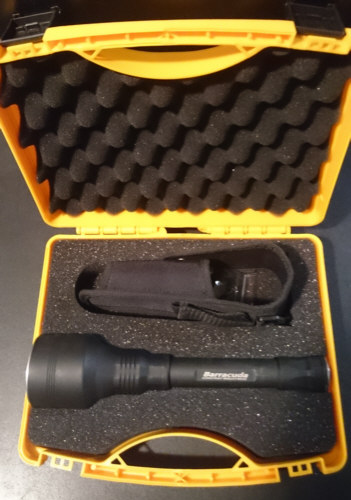 Contents of the box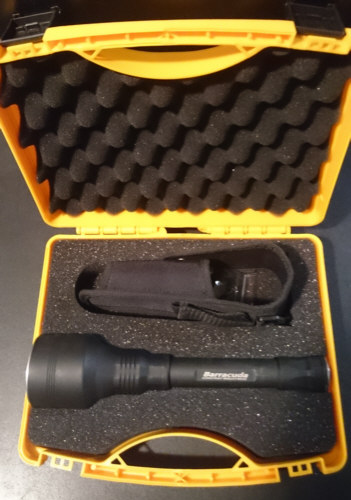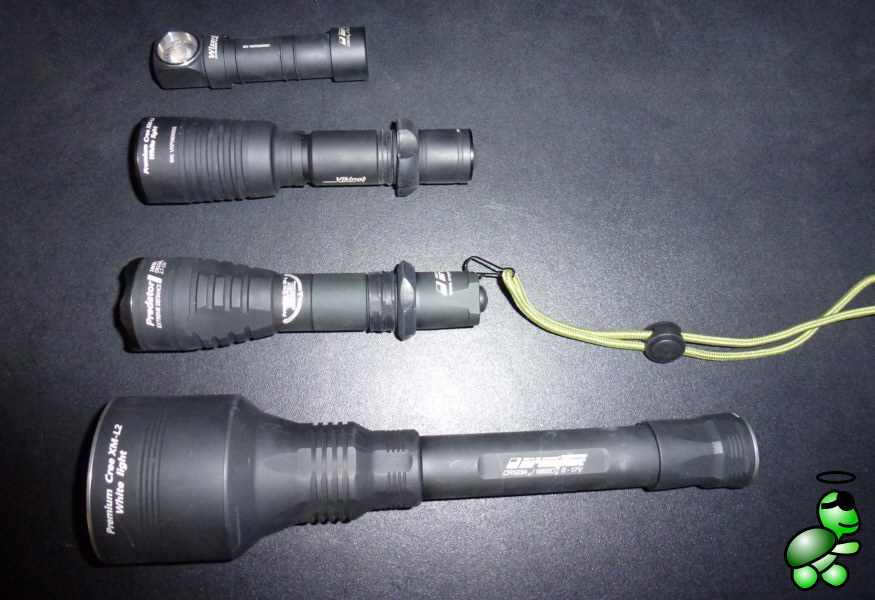 Performance
When using the Barracuda searchlight during complete or almost complete darkness, I get constantly amazed of the light output and the maximum beam distance (and my neighbours are equally or even more impressed). The throw distance is some 500 m, and the intensity of the light is impressive, I would say comparable to a conventional car light.
Now listen to me kids! Never look into the light of a Armytek Barracuda, or you will get blind for life!

However, such power does not come without some disadvantages. One problem I have found when using the Armytek Barracuda in everyday practical situation is its size. While using it, the size and weight do not cause any problem, the searchlight is very handy and it does not feel heavy. No, the problem is having to carry it when it is not used. It is too big for a normal pocket, and you would need a holster to carry it it a practical way.
Another problem (although I guess that this is more related to personal preferences) is the design of the switch to change between the operating modes. The on/off switch is a tailcap switch, which is all good, but the mode switching is done by unscrewing/tightening the head of the flashlight (according to the desired mode) some 1/8 of a circle. While this works, I find it less intuitive than the operation of the Armytek Wizard Cree XM-L2 headlight.
The battery runtime is excellent - but in case you will need to use the Barracuda during a prolonged period of time on the highest intensity mode, I would recommend carrying some charged batteries just in case.
My personal usage of this is mainly during the nightly walks with the on the nearby orange fields. While the Armytek Wizard headlight is very practical and provides an excellent light source, more than sufficient for walking or even running in most terrains, when I do not carry the Barracuda, I miss its ability to light up the far away areas.
Hands-on video
The below video was shot during nighttime when walking through the orange plantations. It was shot using my mobile phone (the great Sony Xperia Z3 Compact with a decent camera sensor). This video really does not do justice at all to the actual performance of the flashlight, but it will give you a slight idea of what you can expect.
Official specifications
This model has been discontinued by Armytek. The following technical specifications can still be found in the manual available at the official Armytek website.
Light and optics
Dimensions and weight
Length

265 mm

Body diameter

24,5 mm

Head diameter

65 mm

Weight

398 g (without batteries)
Body & durability
Modes and electronics
Power source

2x18650 Li-Ion

Number of modes

6 (through rotational switch)

Runtime for maximal mode

1 h 7 min

Runtime for minimal mode

30 days
Conclusion and overall rating
Oh my god! I think I'm in love!

The size and performance of this flashlight makes it useful mainly as a searchlight (which is what it is branded as) or any similar situation when you require an expectional beam distance. I find it to be less practical of everyday usage. If what you need is a powerful flashlight for everyday usage, I recommend a smaller flashlight (like the Armytek Predator) or headlight (like the Armytek Wizard). But if what you want is raw power and exceptional beam distance, you may want to check out the Barracude family of flashlights.
What's next after the Barracuda?
The Armytek website features the Grizzly searchlight since a few years ago. However, it is still not available since the production has not yet started. The Grizzly promises an impressive 2700 lumen output, with a maximum beam distance of 700 m. While some Barracuda models have a long beam distance, the Grizzly looks promising. However, I will likely not be interested in buying it when it becomes available, mainly because it shares the same drawback as the Barracuda, namely the size.
And for Supertortuga, you may think that I am sponsored by Armytek, but I am not. I just got so impressed by the first headlight I bought (the Armytek Wizard) that I decided to try different form factors for different usage.
Generally I am extremely satisfied with the quality of the Armytek products, and if there was one thing on my wishlist, it would be to replicate the mode switching system found on the Armytek Wizard (using only one button) on the Viking, Predator and Barracuda flashlights (which have a tailcap on/off switch and using a rotatiubg movement of the light head to switch mode). I guess this is a constructive restriction, but I would love to see it on some future products.
In the meantime I am looking at some Zebralight everyday flashlights which appears to be a serious alternative to the Viking/Predator flashlights.